"A joyful heart is good medicine, but a broken spirit dries up the bones."~Proverbs 17:22
It saddens me to see older women diagnosed with "osteopenia" or "osteoporosis" listening to their doctors and taking supplemental calcium and even problematic drugs called bisphosphonates.  These are irrational, dogmatic, harmful approaches to the problem of degrading bone as we age.  In my time practicing nephrology and internal medicine, I saw numerous patients suffering from vascular disease while taking the recommended doses of calcium.  X-rays revealed perfect outlines of calcified blood vessels and calcified heart valves.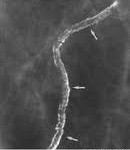 Pictured here is a calcified breast artery, often seen in women who are being treated for hypertension.  The primary drug used in high blood pressure, a thiazide diuretic, causes the body to retain calcium and lose magnesium and potassium.  We incidentally note  these types of calcifications in the large arteries of the entire body, not just the breasts.   I believe these problems are avoidable.
The matrix of bone will incorporate calcium and nutrients where they belong as long as the proper hormones and nutrients are present. Needless to say gravitational force in the form of weight bearing exercise is essential and should be the foundation to a healthy skeleton.  Don't be afraid to exercise with some weight in a backpack if you have no disk disease or low back pain.
Good nutrition is key
You still have to look at what you can do nutritionally, and in interpersonal relationships to help your body heal itself. Supplements are no replacement for good nutrition. After all, scientists are constantly discovering new things about food and its interaction with the body that we don't know.
The first thing to do is either google or look in your reference books to find foods right in Vitamin C, Vitamin K2, magnesium and minor minerals such as boron and silica.  Silica is also important for bones.  Remember too, that depression has many causes.  Sometimes the cause can be nutritional deficiencies and sometimes depression can result from entrapment in unhealthy family dynamics. Controversially, I would also say that depression can also have spiritual origins.
But if time feels of the essence, then supplementation is one route which could be taken.  While the medical profession supplements with calcium and fosomax, in my opinion, a more constructive supplementation regimen could include Vitamin C, Vitamin K2, vitamin D3( in winter months, sun in summer) and boron, silica and magnesium.  These are all far more important to preventing fracture and keeping bone healthy than calcium.
Calcium will ultimately land in the muscles of the heart, the heart valves and the blood vessels, leading to cardiovascular disease.  However if you are getting enough vit C, D3 and K2, your body will direct the calcium you ingest from your food, to where it belongs, not in your heart and blood vessels.
Vitamin C does several things to strengthen bones
It mineralizes the bone and stimulates bone forming cells to grow.
Prevents too much degradation of bone by inhibiting bone absorbing cells.
Dampens oxidative stress, which is what aging is.
Is vital in collagen synthesis.
When vitamin C is low, just the opposite happens. Bone cells that degrade bone called octeoclasts proliferate, and bone cells that lay down mineral and new bone called osteoblasts are not formed.
Studies have shown that elderly patients who fractured bones had significantly lower levels of vitamin C in their blood than those who haven't fractured. [1]  Bone mineral density- the thing that the tests measure, is higher in those who supplement with vitamin C, independent of estrogen level.[2],[3]
Vitamin K2
Vitamin K2 is well known among holistic practitioners to be important in cardiovascular and bone health.  Supplementing this is also a good idea if bone or heart issues are a concern.  Read more here.
And of course good old vitamin D3 with a level around 50-70 mg/ml will help keep the immune system functioning well and the bones strong.
This may seem like a lot of supplementing, yet to me is a worthwhile endeavor that will keep much more than the bones strong.  These days getting enough vitamin C is not so easy with diet alone.  With the toxic load we all have, even with the most pristine diets, we are requiring more vitamin C internally than our ancestors did.  Adults would do well to take 2-5 grams per day of sodium ascorbate as a general supplement.  If you have active kidney stones, or kidney disease please check with your doctor first.
Humans, monkeys and guinea pigs don't make any vitamin C.  This leaves us on our own to get our needs met.  Cats weighing only about 10-15 pounds, synthesize more than 15 times the RDA of vit C recommended for humans. Goats are about the size of a human adults, and under no stress they synthesize 13G per day.  Under stress it can rise to 100G.  Do not fear taking vitamin C. It is the one of the most non-toxic and safe supplements known.  Use liposomal vitamin C, sodium ascorbate or ascorbic acid, never Ester-C or calcium ascorbate.  If you prefer a natural plant-based source, camu-camu is very high in C.  However its harvest does threaten the rainforest.
---
Fasting?
Breakfast, blood sugar, & inflammation
Recent research has shown that Inflammation is responsible for 7 out of 10 Deaths in the United States. But it doesn't have to be the same way for you.
In fact, in a fairly short amount of time, you could start to experience better sleep…less stomach issues…more energy and stamina…less muscle and joint pain…a drop in weight…lower stress levels…and much, much more!
Learn how to Prevent—Even Reverse—Most Major Diseases by "Turning Off" Inflammation!
==> Naturally Fight & Reverse Damaging Inflammatory Effects in Your Body!
---
Best stretch before bed (1 minute)
Did you know that one of the best times to stretch is right before bed? However…
What stretches should you do? Here's a 1-minute stretch routine you can do before bed...
=> Best stretch before bed (takes 1-min)
Enjoy!
Lisa, Yoga Coach
eatlocalgrown / wisemindhealthybody
---
Stop Snoring in 3 Minutes - Starting Tonight
...easy, 3-minute exercise that completely cured his horrendous snoring! We can both finally sleep!
Today is a good day. Tonight will be even better. Why?
Because you're about to learn easy throat exercises that cure (not just treated) your stubborn snoring – in 3 minutes – starting TONIGHT!
...even if straps, sprays and even torturing CPAP masks have failed you in the past.
Most people heal their snoring in just a few minutes per day using these powerful throat exercises. And they're so easy, you can do them, regardless of your age or physical shape.
Use them anytime, anywhere... even while stuck in traffic or watching TV.
Plus the results are permanent!
To learn more and test-drive the easy snoring and sleep apnea exercises for yourself, click here...
To a good night's sleep,
Rick + Lisa
eatlocalgrown / wisemindhealthybody
---
The #1 "bodyfat-eating" hormone...
Did you know that your bodyfat can become "calorie-resistant"?
True. And it's completely unaffected by even the strictest diets... and most intense exercises.
However, there's good news- Calorie-resistant bodyfat can be now removed...
It's a little-known, calorie-burning hormone we all have... just waiting for the right spark to come alive. It's not thyroid, leptin, ghrelin, insulin, adiponectin, HGH or any other "fat loss" hormone you may know. Read more to find out precisely how to unleash its calorie-burning power:
==> How to Activate Your #1 "Bodyfat-Eating" Hormone...
To your health!
PS - Studies show that it can also reduce your risk of diabetes by 53.7%, a heart attack by 83.3% and stroke by 51.4%. Here's more of the scientific proof...
---
#1 muscle that eliminates joint and back pain, anxiety and looking fat
I bet you can't guess which muscle in your body is the #1 muscle that eliminates joint and back pain, anxiety and looking fat. This "hidden survival muscle" in your body will boost your energy levels, immune system, sexual function, strength and athletic performance when unlocked.
If this "hidden" most powerful primal muscle is healthy, we are healthy.
Is it…
a) Abs
b) Chest
c) Glutes
d) Hip Flexors
Take the quiz above and see if you got the correct answer!
---
In April, 2009, researchers stunned the medical community when they reported chronic inflammation as the root cause of several major diseases.
See, every year 610,000 people in the U.S. die of heart disease. Cancer claims another 584,000...stroke 130,000...Alzheimer's disease nearly 85,000 — and the list goes on.
Truth is, we now know... chronic inflammation is responsible for 7 out of the top 10 leading causes of death in the United States! Hundreds of studies and scientific reviews prove it.
Fortunately, newer research shows you can prevent-even reverse-most major diseases by "turning off" inflammation. And in our new book, we show you how to do just that.
If you or a loved one is suffering from a debilitating condition-and you"re not sure what the culprit is-now's the time to find out...while you can still do something about it!
Get the Free Inflammation Book
--> Grab your FREE copy of this groundbreaking soft cover book today (while supplies still last.)
---
Free Paleo / Keto Cookbook
Over the past year, my friend Dave over at PaleoHacks has been working on a super secret cookbook project with our good friend Peter Servold ­­ a Le Cordon Bleu trained Chef and owner of Pete's Paleo...
And today, this new incredible Paleo Cookbook is finally available to be shipped right to your door for FREE!
The cookbook is called Paleo Eats, and it's filled with over 80 chef ­created, insanely tasty Paleo recipes ­­ which means they are free from gluten, soy, dairy, and refined sugar.
Get your FREE copy of Paleo Eats Here. (Grab this today, because they only ordered a small batch of these cookbooks for this freebie promotion, and they will sell out FAST!)
Enjoy!
---
Sponsored Health Resources
In the years that I've been working on this website project I've come across some amazing resources by some very special people. I'd like to share them with you here.
NOTE: I update these links often so please check back to see what's new!
---
1) Everyone knows green smoothies are healthy right? Have you heard of a "red" smoothie? If not, check out this story…
--> "Red" Smoothie Helps Alabama Girl Shed 80lbs!
---
2) Forget what you've read about 10-day lemonade cleanses, 7-day detoxes with green juices and Gwyneth's gruel. All you need to do, and this is perfect for Saturday or or anytime really, is a simple 1-day cleanse.
--> Get the 1 Day Cleanse (better than 7-day detoxes!)
---
3) This "hidden survival muscle" in your body will boost your energy levels, immune system, sexual function, strength and athletic performance when unlocked.
--> #1 muscle that eliminates joint and back pain, anxiety and looking fat

---
4) I thought it was virtually impossible for a website to be able to tell me anything even a little bit insightful after only submitting my name and date of birth... I was wrong!
--> Your Birth Date + Name - Free Report
---
5) Turmeric is amazing. The problem is - It's hard to absorb!
--> The best way to get maximum effects of Turmeric
---
6) Wonder why your stomach still sticks out even though you're hammering the core exercises every day? It's a common myth that bulging belly is due to weak abdominal muscles.
--> Why Some People LOOK Fat that Aren't
---
7) Even if you're the most active of athletes, you may still suffer from tight hip flexors due to the amount of time you spend each day planted to a chair.
---
Enjoy! Let me know how these work out for you. And if you run across anything I've missed please let me know.
Rick D.
wisemindhealthybody.com