---
I need to admit something to you. I love gadgets.
I do. I just love them, And when they're relatively inexpensive, I love them even more!
Here's a list of super cool tools that will compliment almost any kitchen-
1.

Collapsible Measuring Cups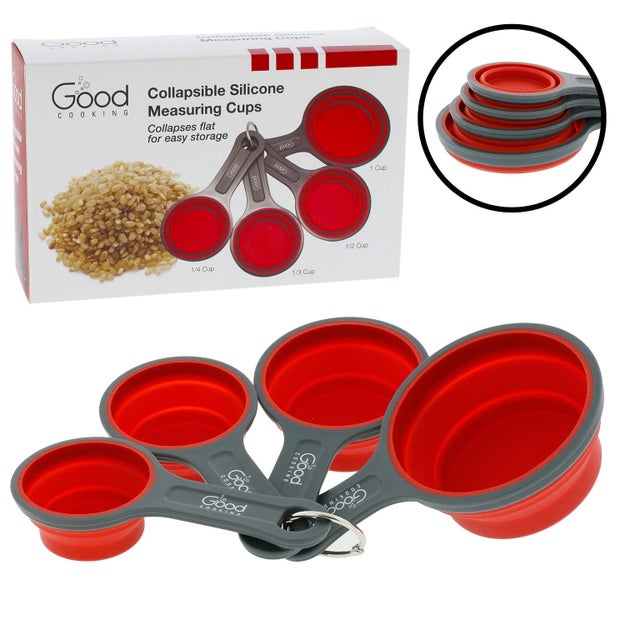 "Compared to regular plastic measuring cups, these save so much space in my kitchen drawers."
More info: $9.95 here.
2.

Silicone Spatulas
"Look for one that's built as one solid piece. A lot of spatulas are two pieces (a silicone head on a wooden handle) and stuff gets trapped in the gap."
More info: Set of three, $13 here.
---
---
3. Garlic Crusher
"Legitimately a godsend for when you don't want to deal with mincing garlic by hand but you're past the jarred stuff."
More info: $15 here.
4.

Spill-Proof Ice Cube Tray
"The removable silicone cover prevents leakage and lets you store it on its side. It's the perfect space-saver because our freezer is always full and there's never enough flat space to put a regular tray."
More info: $9.95 here.
5.

Glass Pyrex Bowls
"Trading out all my weirdly-stained plastic Rubbermaid bowls for a set of glass Pyrex bowls has been a game-changer."
More info: Set of four, $19 here.
---
---
6.

Swing-A-Way Leveraged Jar Opener
"I grew up with one because my mom has a spinal cord injury and her grip strength wasn't great. Then when I moved out, I got my own. It's the best."
More info: $9 here.
7.

3-in-1 Avocado Slicer
"This thing has changed my avocado life. It easily cuts through the skin, pits the avocado, and slices it. My fiancé's mom got it for me after watching me use a knife in what she says was 'an unsafe way' to get the seed out. Anyway, it's amazing."
More info: $9.99 here.
8.

Julienne Peeler

"I love this thing. It juliennes all of your favorite fruits and veggies, and makes it so easy to quickly make matchsticks."
More info: $10 here.