Have you heard of Zoodles? They're noodles made from Zucchini. And they're actually pretty amazing! You cut the zucchini with a kitchen tool called a Spiral Cutter. Here's a collection of recipes from around the web. Please note that some of these recipes don't use organic produce and may have other not-so-healthy ingredients listed. As always, we urge you to substitute local organic options when you can. Think of these recipes more as "Source of Inspiration" then a step-by-step guide.So let's get to the recipes!
The Spiral Cutter We Use
Here is the spiral cutter we use at home. It's the Useful Tri-Blade and it's available on Amazon for under $20. There are many more different cutters out there to pick from as well but Tri-Blade had good reviews so we decided to try and we're happy with it so far.
One of the cool features of this unit is the suction-cup feet. They makes it really easy to operate the unit efficiently. Without those feet, it would be pretty difficult to keep in place.
Kung Pao Chicken Zoodles For Two
You can enjoy these Kung Pao Noodles without the guilt (under 300 calories), because I replaced the noodles with zoodles (zucchini noodles) and the results were fantastic!!Each bowl is filled with chicken and vegetables and the sauce has the flavor combination of of salty, sweet, sour, and spicy flavors. Topped with crushed peanuts – it's pretty hard to pass this up!GO TO RECIPEVia skinnytaste.com
Zucchini Noodles with Pesto
I think you will love this zucchini recipe, Zucchini Noodles with Pesto. It only takes 15 minutes to make and there is no cooking involved!Via twopeasandtheirpod
Zucchini Shrimp Scampi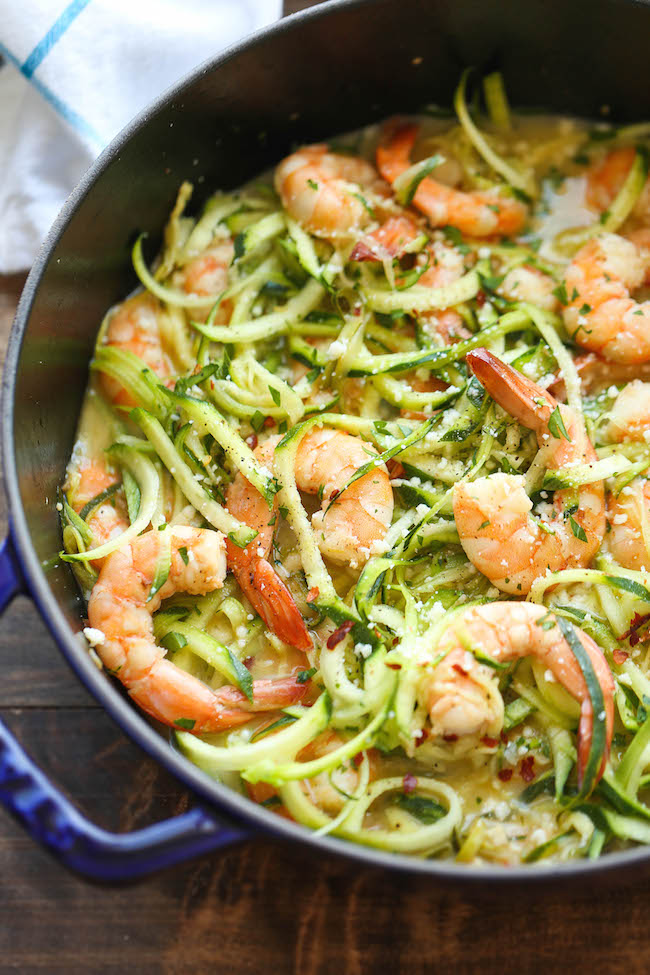 Traditional shrimp scampi made into a low-carb dish with zucchini noodles. It's unbelievably easy, quick & healthy! 214.3 calories.Via damndelicious.net
Paleo Low Carb Carbonara
Via http://skinnyms.com
Greek Salad Zoodles
Fresh, light, and healthy, with juicy tomatoes, briny olives, crumbly feta cheese, and a light lemon and oregano dressing, all the flavors of the Mediterranean!Via cupcakesandkalechips.com
Zoodles Pad Thai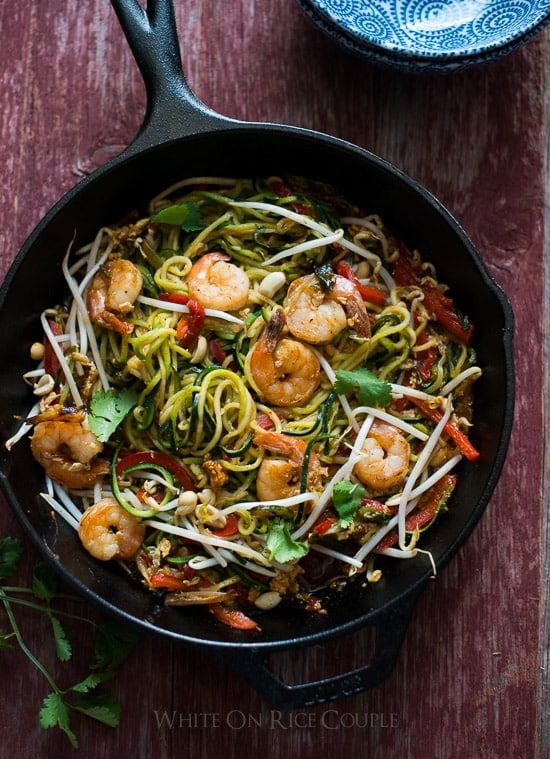 The best part about this Zucchini Pasta Pad Thai is that you can add what ever protein you want. We like to have our zucchini noodle a little on the crunchy side, so we like to cook the zucchini first, then let the water drain from the noodles before serving. The water that's released from the noodles won't water down any sauce or flavor in the zoodle recipe.Via whiteonricecouple.com
Zoodles and Turkey Meatballs
For all the spaghetti and meatball lovers out there, you won't believe how good this is!Via acozykitchen.com
Chicken Kale Zoodle Soup
This chicken "noodle" soup gets a lightened up make over by skipping the spaghetti and making zucchini noodles instead! This is low carb, gluten free and also a super fast meal made in under 30 minutes!Via sugarfreemom.com