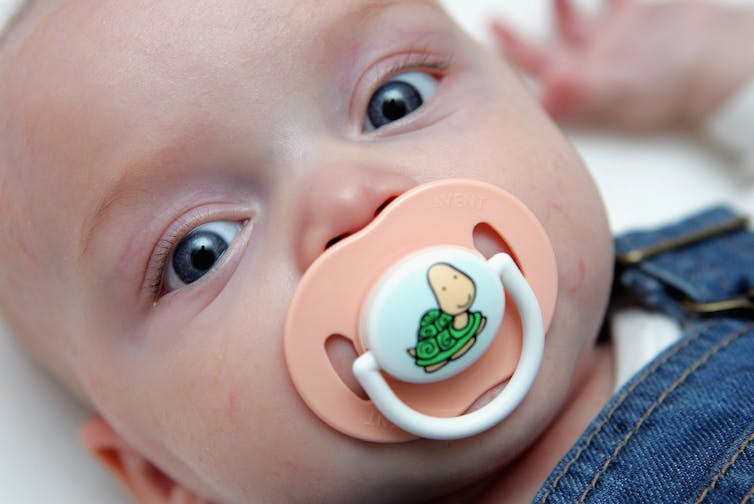 Jennifer C. Ablow, University of Oregon and Elinor Sullivan, Oregon Health & Science University
Pregnancy is stressful, to say the least, but COVID-19 brings new challenges to parents of newborns. The Centers for Disease Control and Prevention has identified pregnant women as a vulnerable population. If infected, they are more likely to be hospitalized and require ventilation and their risk of preterm birth goes up.
Economists predict that the U.S. may have at least 500,000 fewer births because of the pandemic. Deciding not to become pregnant during a pandemic is understandable, particularly in the U.S., as it is one of five countries worldwide and the only country classified as high-income by the World Bank, that does not mandate paid maternity leave for non-federally employed workers.
As scholars who study prenatal and postnatal stress, maternal nutrition and the brain development of children, we can tell you the pandemic has dramatically changed the pregnancy experience.
We are part of an international study to understand how women who are expecting to or have given birth are affected by stress related to the pandemic. We are finding that mothers are worried about catching the virus, transmitting it to their newborn and keeping their child safe during infancy. And this stress is on top of an already high stress load for pregnant women and new mothers.
The risks
COVID-19-positive pregnancies have been linked to abnormalities in the placenta. Those abnormalities potentially impact oxygen and nutrient delivery to the fetus. The long-term influence of the virus on the developing child is not yet known.
It seems unlikely, however, that a developing fetus can get COVID-19 from its infected mother. COVID-19 needs a receptor molecule to cause infection. A recent study suggests the placenta contains very low levels of the molecules needed to create the receptor. This finding may explain why the virus is rarely found in newborns with COVID-19-positive mothers.
There are other concerns, however, including the effects of stress on the mother-to-be.
Humans are confronted with stress on a daily basis. The physiological response to stress is well known. It leads to the release of hormones into the bloodstream, most notably cortisol. Even in pregnancy, some stress is necessary. During a typical pregnancy, maternal cortisol increases by two to four times. This is normal and critical to the development of organ systems in the fetus, like the lungs, liver and central nervous system.
However, people respond differently to identical stressful situations for a host of reasons. Young age, racial and ethnic disparities, poor education, poor preparation for pregnancy and a history of trauma are a few factors that can exacerbate the effects of stress. To make stress tolerable, adequate social support, access to supportive resources and economic stability are necessary.
Otherwise, continuous exposure to significant stress leads to unrelenting activation of the stress response. Chronic stress, or toxic stress, in pregnant women has been linked to complications like gestational diabetes, impaired fetal development, low birth weight, neurodevelopmental problems and preclampsia (high blood pressure).
A lack of control and information makes stress worse. Things such as not knowing how long the stress will last and how intense the stress will be add to a pregnant woman's and new mother's stress levels.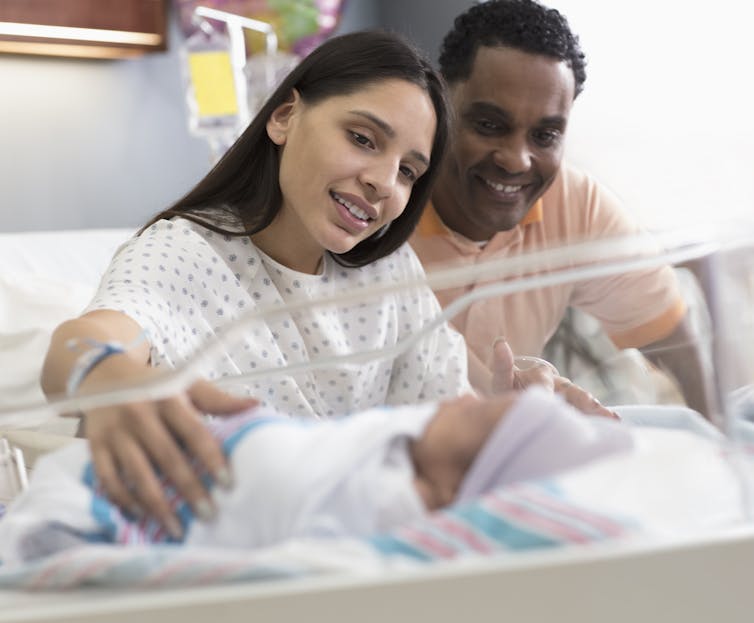 The birth itself
The hospital experience for pregnant couples is now very different. Water baths are out. So is walking around the hospital. Most facilities allow only one support person present at the birth. If either parent tests positive for COVID-19 during hospital admission, they fear separation from the baby. These things often add even more stress.
When the family comes home, there is still risk. Infants could catch the disease from an infected parent. While children with COVID-19 generally don't get as sick as adults, infants are an exception. Because of their immature respiratory and immune systems, they are at increased risk of severe illness compared to older children.
Faced with this possibility, parents of infants are advised to socially isolate. This may offer some advantages, but isolation also decreases access to childcare and other kinds of social support right at the time they need it the most.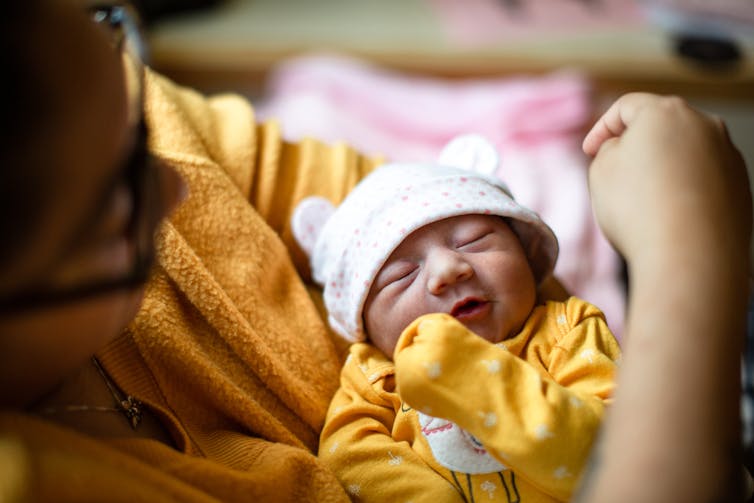 The COPE study
As part of the COVID-19 and Perinatal Experience study, we are following women who are expecting to or have given birth during the pandemic to understand how they are affected by stress related to the pandemic. An initial review of data from over 500 Oregon women reveals they are significantly stressed; their levels of reported depression and anxiety are disturbing.
Approximately 75% say the pandemic is having an extreme impact on their daily life. The stress, they tell us, is from social isolation, loneliness, changes in hospital procedures, concerns about postnatal care and a lack of social support because they need to quarantine.
[Expertise in your inbox. Sign up for The Conversation's newsletter and get expert takes on today's news, every day.]
The good news: prenatal stress during the pandemic can be reduced. A robust social support network is critical; friends and family are needed as new parents become exhausted and vulnerable to postpartum depression. Although COVID-19 makes in-person support difficult, if not impossible, technology – like Facetime and Zoom – can be a connector. Online group prenatal care is another possibility. So are relaxation and mindfulness techniques. A healthy diet, adequate sleep and exercise also help.
Why these women need more help than ever
Community health workers with pregnant clients can reduce stress by making sure basic needs are met. No longer is that only food, housing and insurance. Needs once considered extras, like internet service, are now essential.
Unfortunately – and leaving the internet aside – federal programs to help access food, housing, and insurance vary widely from one state to another. Without a unified federal mandate, social health disparities grow even more.
The Family and Medical Leave Act offers 12 weeks of job-protected leave. But it's unpaid and it applies only if you work at a company with more than 50 employees. Many families, and especially single mothers, decline this offer. They need the income. Parental leave is linked to healthier babies; they have better long-term outcomes as they develop. An investment in parental leave would, in the long run, save money.
Restructuring national policies to meet basic needs can help reduce the challenges faced by this under-served group. Without that support, the stress from COVID-19 could leave a long-lasting, multi-generational impact on pregnant couples and their children.
Jennifer C. Ablow, Associate Professor of Psychology, University of Oregon and Elinor Sullivan, Associate Professor of Psychiatry, Oregon Health & Science University
This article is republished from The Conversation under a Creative Commons license. Read the original article.
---
Fasting?
Breakfast, blood sugar, & inflammation
Recent research has shown that Inflammation is responsible for 7 out of 10 Deaths in the United States. But it doesn't have to be the same way for you.
In fact, in a fairly short amount of time, you could start to experience better sleep…less stomach issues…more energy and stamina…less muscle and joint pain…a drop in weight…lower stress levels…and much, much more!
Learn how to Prevent—Even Reverse—Most Major Diseases by "Turning Off" Inflammation!
==> Naturally Fight & Reverse Damaging Inflammatory Effects in Your Body!
---
Best stretch before bed (1 minute)
Did you know that one of the best times to stretch is right before bed? However…
What stretches should you do? Here's a 1-minute stretch routine you can do before bed...
=> Best stretch before bed (takes 1-min)
Enjoy!
Lisa, Yoga Coach
eatlocalgrown / wisemindhealthybody
---
Stop Snoring in 3 Minutes - Starting Tonight
...easy, 3-minute exercise that completely cured his horrendous snoring! We can both finally sleep!
Today is a good day. Tonight will be even better. Why?
Because you're about to learn easy throat exercises that cure (not just treated) your stubborn snoring – in 3 minutes – starting TONIGHT!
...even if straps, sprays and even torturing CPAP masks have failed you in the past.
Most people heal their snoring in just a few minutes per day using these powerful throat exercises. And they're so easy, you can do them, regardless of your age or physical shape.
Use them anytime, anywhere... even while stuck in traffic or watching TV.
Plus the results are permanent!
To learn more and test-drive the easy snoring and sleep apnea exercises for yourself, click here...
To a good night's sleep,
Rick + Lisa
eatlocalgrown / wisemindhealthybody
---
The #1 "bodyfat-eating" hormone...
Did you know that your bodyfat can become "calorie-resistant"?
True. And it's completely unaffected by even the strictest diets... and most intense exercises.
However, there's good news- Calorie-resistant bodyfat can be now removed...
It's a little-known, calorie-burning hormone we all have... just waiting for the right spark to come alive. It's not thyroid, leptin, ghrelin, insulin, adiponectin, HGH or any other "fat loss" hormone you may know. Read more to find out precisely how to unleash its calorie-burning power:
==> How to Activate Your #1 "Bodyfat-Eating" Hormone...
To your health!
PS - Studies show that it can also reduce your risk of diabetes by 53.7%, a heart attack by 83.3% and stroke by 51.4%. Here's more of the scientific proof...
---
#1 muscle that eliminates joint and back pain, anxiety and looking fat
I bet you can't guess which muscle in your body is the #1 muscle that eliminates joint and back pain, anxiety and looking fat. This "hidden survival muscle" in your body will boost your energy levels, immune system, sexual function, strength and athletic performance when unlocked.
If this "hidden" most powerful primal muscle is healthy, we are healthy.
Is it…
a) Abs
b) Chest
c) Glutes
d) Hip Flexors
Take the quiz above and see if you got the correct answer!
---
In April, 2009, researchers stunned the medical community when they reported chronic inflammation as the root cause of several major diseases.
See, every year 610,000 people in the U.S. die of heart disease. Cancer claims another 584,000...stroke 130,000...Alzheimer's disease nearly 85,000 — and the list goes on.
Truth is, we now know... chronic inflammation is responsible for 7 out of the top 10 leading causes of death in the United States! Hundreds of studies and scientific reviews prove it.
Fortunately, newer research shows you can prevent-even reverse-most major diseases by "turning off" inflammation. And in our new book, we show you how to do just that.
If you or a loved one is suffering from a debilitating condition-and you"re not sure what the culprit is-now's the time to find out...while you can still do something about it!
Get the Free Inflammation Book
--> Grab your FREE copy of this groundbreaking soft cover book today (while supplies still last.)
---
Free Paleo / Keto Cookbook
Over the past year, my friend Dave over at PaleoHacks has been working on a super secret cookbook project with our good friend Peter Servold ­­ a Le Cordon Bleu trained Chef and owner of Pete's Paleo...
And today, this new incredible Paleo Cookbook is finally available to be shipped right to your door for FREE!
The cookbook is called Paleo Eats, and it's filled with over 80 chef ­created, insanely tasty Paleo recipes ­­ which means they are free from gluten, soy, dairy, and refined sugar.
Get your FREE copy of Paleo Eats Here. (Grab this today, because they only ordered a small batch of these cookbooks for this freebie promotion, and they will sell out FAST!)
Enjoy!
---
Sponsored Health Resources
In the years that I've been working on this website project I've come across some amazing resources by some very special people. I'd like to share them with you here.
NOTE: I update these links often so please check back to see what's new!
---
1) Everyone knows green smoothies are healthy right? Have you heard of a "red" smoothie? If not, check out this story…
--> "Red" Smoothie Helps Alabama Girl Shed 80lbs!
---
2) Forget what you've read about 10-day lemonade cleanses, 7-day detoxes with green juices and Gwyneth's gruel. All you need to do, and this is perfect for Saturday or or anytime really, is a simple 1-day cleanse.
--> Get the 1 Day Cleanse (better than 7-day detoxes!)
---
3) This "hidden survival muscle" in your body will boost your energy levels, immune system, sexual function, strength and athletic performance when unlocked.
--> #1 muscle that eliminates joint and back pain, anxiety and looking fat

---
4) I thought it was virtually impossible for a website to be able to tell me anything even a little bit insightful after only submitting my name and date of birth... I was wrong!
--> Your Birth Date + Name - Free Report
---
5) Turmeric is amazing. The problem is - It's hard to absorb!
--> The best way to get maximum effects of Turmeric
---
6) Wonder why your stomach still sticks out even though you're hammering the core exercises every day? It's a common myth that bulging belly is due to weak abdominal muscles.
--> Why Some People LOOK Fat that Aren't
---
7) Even if you're the most active of athletes, you may still suffer from tight hip flexors due to the amount of time you spend each day planted to a chair.
---
Enjoy! Let me know how these work out for you. And if you run across anything I've missed please let me know.
Rick D.
wisemindhealthybody.com