Eating fast food is frequently blamed for damaging our health.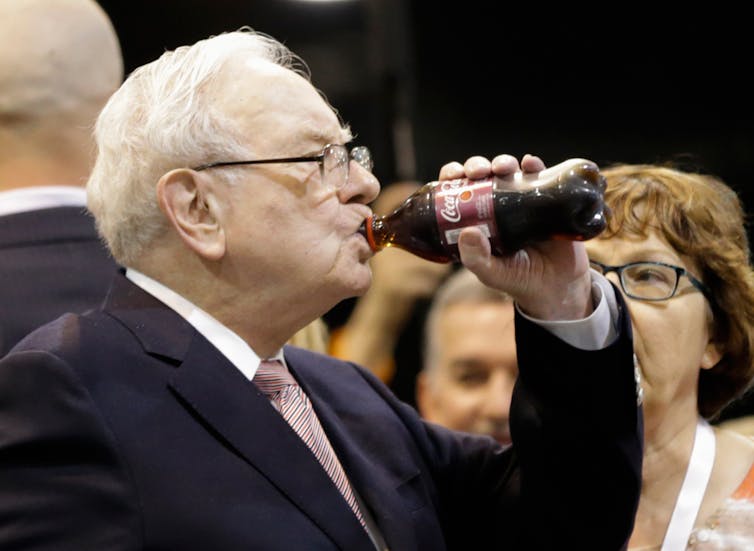 As nutrition experts point out, it is not the healthiest type of meal since it is typically high in fat and salt. More widely, it's seen as a key factor in the growing obesity epidemic in the U.S. and throughout the world.
Because it's considered relatively inexpensive, there's an assumption that poor people eat more fast food than other socioeconomic groups – which has convinced some local governments to try to limit their access.
Food journalist Mark Bittman sums up the sentiment succinctly:
"The 'fact' that junk food is cheaper than real food has become a reflexive part of how we explain why so many Americans are overweight, particularly those with lower incomes."
Our recently published research examined this assumption by looking at who eats fast food using a large sample of random Americans. What we found surprised us:
Poor people were actually less likely to eat fast food – and do so less frequently – than those in the middle class, and only a little more likely than the rich.
In other words, the guilty pleasure of enjoying a McDonald's hamburger, Kentucky Fried Chicken popcorn nuggets or Taco Bell burrito is shared across the income spectrum, from rich to poor, with an overwhelming majority of every group reporting having indulged at least once over a nonconsecutive three-week period.
A diet of Cokes and Oreos
In retrospect, the fact that everyone eats fast food perhaps should not be that surprising.
There are rich and famous people, including President Donald Trump, who are also famous for their love of fast food. Trump even made a commercial for McDonald's in 2002 extolling the virtues of their hamburgers. Warren Buffett, one of the world's richest people, says he "eats like a 6-year-old," meaning lots of Oreos and Cokes every day (he invests like one too).
What we learned from our research is that we all have a soft spot for fast food. We analyzed a cross-section of the youngest members of the baby boom generation – Americans born from 1957 to 1964 – from all walks of life who have been interviewed regularly since 1979. Respondents were asked about fast-food consumption in the years 2008, 2010 and 2012 – when they were in their 40's and 50's. Specifically, interviewers posed the following question:
"In the past seven days, how many times did you eat food from a fast-food restaurant such as McDonald's, Kentucky Fried Chicken, Pizza Hut or Taco Bell?"
Overall, 79 percent of respondents said they ate fast food at least once during the three weeks.
Breaking it down by income deciles (groups of 10 percent of aggregate household income) did not show big differences. Among the highest 10th of earners, about 75 percent reported eating fast food at least once in the period, compared with 81 percent for the poorest. Earners in the middle were the biggest fans of fast food, at about 85 percent.
---
---
The data also show middle earners are more likely to eat fast food frequently, averaging a little over four meals during the three weeks, compared with three for the richest and 3.7 for the poorest.
---
---
Because the data occurred over a four-year period, we were also able to examine whether dramatic changes in wealth or income altered individuals' eating habits. The data showed becoming richer or poorer didn't have much effect at all on how often people ate fast food.
Regulating fast food
These results suggest focusing on preventing poor people from having access to fast food may be misguided.
For example, Los Angeles in 2008 banned new freestanding fast food restaurants from opening in the poor neighborhoods of South L.A. The given reason for the ban was because "fast-food businesses in low-income areas, particularly along the Southeast Los Angeles commercial corridors, intensifies socio-economic problems in the neighborhoods, and creates serious public health problems."
Research suggests this ban did not work since obesity rates went up after the ban compared to other neighborhoods where fast food had no restrictions. This seems to pour cold water on other efforts to solve obesity problems by regulating the location of fast-food restaurants.
Not all that cheap
Another problem with the stereotype about poor people and fast food is that by and large it's not actually that cheap, in absolute monetary terms.
The typical cost per meal at a fast-food restaurant – which the U.S. Census calls limited service – is over US$8 based on the average of all limited service places. Fast food is cheap only in comparison to eating in a full-service restaurant, with the average cost totals about US$15 on average.
Moreover, $8 is a lot for a family living under the U.S. poverty line, which for a family of two is a bit above $16,000, or about $44 per day. It is doubtful a poor family of two would be able to regularly spend more than a third of its daily income eating fast food.
The lure of fast food
If politicians really want to improve the health of the poor, limiting fast-food restaurants in low-income neighborhoods is probably not the way to go.
So what are some alternative solutions?
We found that people who said they checked ingredients before eating new foods had lower fast-food intake. This suggests that making it easier for Americans to learn what is in their food could help sway consumers away from fast food and toward healthier eating options.
Another finding was that working more hours raises fast-food consumption, regardless of income level. People eat it because it's fast and convenient.
This suggests policies that make nutritious foods more readily available, quickly, could help offset the lure of fast food. For example, reducing the red tape for approving food trucks that serve meals containing fresh fruits and vegetables could promote healthier, convenient eating.
Our goal is not to be fast-food cheerleaders. We do not doubt that a diet high in fast food is unhealthy. We just doubt, based on our data, that the poor eat fast food more than anyone else.

This article is republished from The Conversation under a Creative Commons license. Read the original article.
---
Fasting?
Breakfast, blood sugar, & inflammation
Recent research has shown that Inflammation is responsible for 7 out of 10 Deaths in the United States. But it doesn't have to be the same way for you.
In fact, in a fairly short amount of time, you could start to experience better sleep…less stomach issues…more energy and stamina…less muscle and joint pain…a drop in weight…lower stress levels…and much, much more!
Learn how to Prevent—Even Reverse—Most Major Diseases by "Turning Off" Inflammation!
==> Naturally Fight & Reverse Damaging Inflammatory Effects in Your Body!
---
Best stretch before bed (1 minute)
Did you know that one of the best times to stretch is right before bed? However…
What stretches should you do? Here's a 1-minute stretch routine you can do before bed...
=> Best stretch before bed (takes 1-min)
Enjoy!
Lisa, Yoga Coach
eatlocalgrown / wisemindhealthybody
---
Stop Snoring in 3 Minutes - Starting Tonight
...easy, 3-minute exercise that completely cured his horrendous snoring! We can both finally sleep!
Today is a good day. Tonight will be even better. Why?
Because you're about to learn easy throat exercises that cure (not just treated) your stubborn snoring – in 3 minutes – starting TONIGHT!
...even if straps, sprays and even torturing CPAP masks have failed you in the past.
Most people heal their snoring in just a few minutes per day using these powerful throat exercises. And they're so easy, you can do them, regardless of your age or physical shape.
Use them anytime, anywhere... even while stuck in traffic or watching TV.
Plus the results are permanent!
To learn more and test-drive the easy snoring and sleep apnea exercises for yourself, click here...
To a good night's sleep,
Rick + Lisa
eatlocalgrown / wisemindhealthybody
---
The #1 "bodyfat-eating" hormone...
Did you know that your bodyfat can become "calorie-resistant"?
True. And it's completely unaffected by even the strictest diets... and most intense exercises.
However, there's good news- Calorie-resistant bodyfat can be now removed...
It's a little-known, calorie-burning hormone we all have... just waiting for the right spark to come alive. It's not thyroid, leptin, ghrelin, insulin, adiponectin, HGH or any other "fat loss" hormone you may know. Read more to find out precisely how to unleash its calorie-burning power:
==> How to Activate Your #1 "Bodyfat-Eating" Hormone...
To your health!
PS - Studies show that it can also reduce your risk of diabetes by 53.7%, a heart attack by 83.3% and stroke by 51.4%. Here's more of the scientific proof...
---
#1 muscle that eliminates joint and back pain, anxiety and looking fat
I bet you can't guess which muscle in your body is the #1 muscle that eliminates joint and back pain, anxiety and looking fat. This "hidden survival muscle" in your body will boost your energy levels, immune system, sexual function, strength and athletic performance when unlocked.
If this "hidden" most powerful primal muscle is healthy, we are healthy.
Is it…
a) Abs
b) Chest
c) Glutes
d) Hip Flexors
Take the quiz above and see if you got the correct answer!
---
In April, 2009, researchers stunned the medical community when they reported chronic inflammation as the root cause of several major diseases.
See, every year 610,000 people in the U.S. die of heart disease. Cancer claims another 584,000...stroke 130,000...Alzheimer's disease nearly 85,000 — and the list goes on.
Truth is, we now know... chronic inflammation is responsible for 7 out of the top 10 leading causes of death in the United States! Hundreds of studies and scientific reviews prove it.
Fortunately, newer research shows you can prevent-even reverse-most major diseases by "turning off" inflammation. And in our new book, we show you how to do just that.
If you or a loved one is suffering from a debilitating condition-and you"re not sure what the culprit is-now's the time to find out...while you can still do something about it!
Get the Free Inflammation Book
--> Grab your FREE copy of this groundbreaking soft cover book today (while supplies still last.)
---
Free Paleo / Keto Cookbook
Over the past year, my friend Dave over at PaleoHacks has been working on a super secret cookbook project with our good friend Peter Servold ­­ a Le Cordon Bleu trained Chef and owner of Pete's Paleo...
And today, this new incredible Paleo Cookbook is finally available to be shipped right to your door for FREE!
The cookbook is called Paleo Eats, and it's filled with over 80 chef ­created, insanely tasty Paleo recipes ­­ which means they are free from gluten, soy, dairy, and refined sugar.
Get your FREE copy of Paleo Eats Here. (Grab this today, because they only ordered a small batch of these cookbooks for this freebie promotion, and they will sell out FAST!)
Enjoy!
---
Sponsored Health Resources
In the years that I've been working on this website project I've come across some amazing resources by some very special people. I'd like to share them with you here.
NOTE: I update these links often so please check back to see what's new!
---
1) Everyone knows green smoothies are healthy right? Have you heard of a "red" smoothie? If not, check out this story…
--> "Red" Smoothie Helps Alabama Girl Shed 80lbs!
---
2) Forget what you've read about 10-day lemonade cleanses, 7-day detoxes with green juices and Gwyneth's gruel. All you need to do, and this is perfect for Saturday or or anytime really, is a simple 1-day cleanse.
--> Get the 1 Day Cleanse (better than 7-day detoxes!)
---
3) This "hidden survival muscle" in your body will boost your energy levels, immune system, sexual function, strength and athletic performance when unlocked.
--> #1 muscle that eliminates joint and back pain, anxiety and looking fat

---
4) I thought it was virtually impossible for a website to be able to tell me anything even a little bit insightful after only submitting my name and date of birth... I was wrong!
--> Your Birth Date + Name - Free Report
---
5) Turmeric is amazing. The problem is - It's hard to absorb!
--> The best way to get maximum effects of Turmeric
---
6) Wonder why your stomach still sticks out even though you're hammering the core exercises every day? It's a common myth that bulging belly is due to weak abdominal muscles.
--> Why Some People LOOK Fat that Aren't
---
7) Even if you're the most active of athletes, you may still suffer from tight hip flexors due to the amount of time you spend each day planted to a chair.
---
Enjoy! Let me know how these work out for you. And if you run across anything I've missed please let me know.
Rick D.
wisemindhealthybody.com