Amalio Telenti, The Scripps Research Institute
Our society seems to have accepted that gaining weight is an inevitable consequence of growing up in a place with easy access to calories and where physical activity plays a declining role in our professional and private lives. Aging just makes weight loss even more difficult.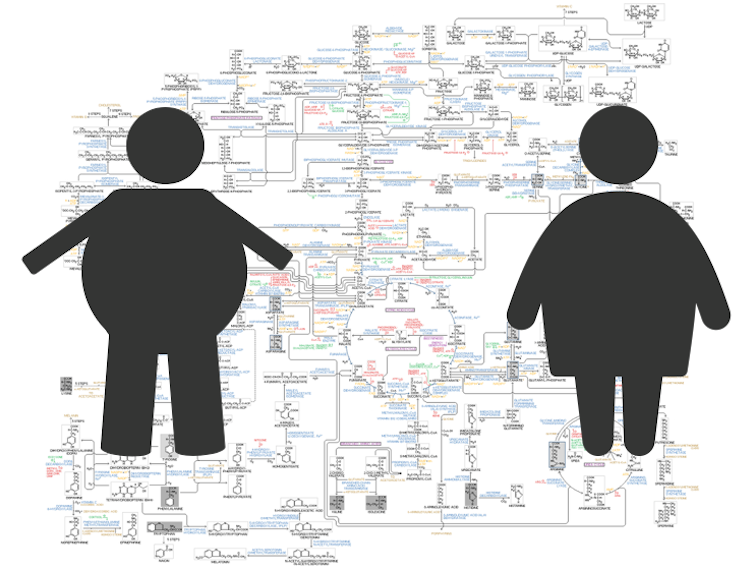 In the short term, the consequences of excess weight seem remote or unimportant; a problem of aesthetics, a minor limitation in mobility. But it may eventually lead to higher rates of diabetes and heart disease, and present a significant challenge for enjoying an active lifestyle.
My own work and that of my collaborators here and in the U.K. shows that obesity is more than just some more fat under the skin – it is a true modification of our metabolism. It alters the way we process nutrients and modifies the chemical reactions that sustain our existence. Our most recent work, published in Cell Metabolism, examined the consequences of obesity on our metabolism.
My colleagues and I undertook this project because we recognized that there are many types of obesity – each one has different consequences for each person's health. This is what we call disease "heterogeneity." If we understand heterogeneity, we can personalize obesity treatments, hopefully with more success.
My obesity, my metabolome
We are a team of researchers with different backgrounds including medicine, technology and the analysis of complex data. We studied close to 2,500 obese people with two powerful new technologies:
We sequenced the entire genome of each study participant, and we analyzed more than 1,000 blood chemicals, or metabolites. This collection of metabolites is what we now call the "metabolome" and includes well-known compounds such as glucose and uric acid, as well as tongue twisters such as 1-stearoyl-2-dihomo-linolenoyl-GPC.
We included the genome analysis to understand how an individual's genes predisposes him or her to obesity. We chose the metabolome to capture in real time the impact of having excess weight. Many of the study participants were followed for more than 10 years; this enabled the assessment of long-term consequences of our observations.
The surprising and disturbing news is that the levels of many hundreds of unique metabolites are affected by changes in weight. Some of these changes were expected: Fats or lipids – including cholesterol – rise rapidly with increasing weight.
However, we also observed changes for other types of metabolites and body processes: protein and carbohydrate metabolism, energy production and hormone concentrations.
The overall picture was that weight dramatically perturbs the body's metabolism. The good news is that the alterations can be reversed with weigh loss.
The healthy obese and the unhealthy skinny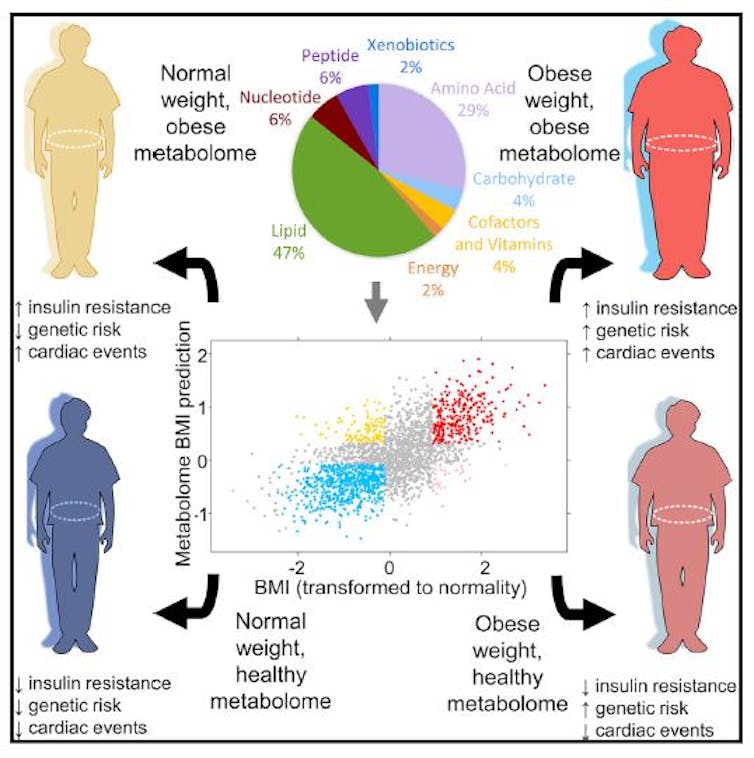 A second and fundamental observation was that the metabolic alterations carried more health consequences than the mere physical aspect: Some of the participants had what we labeled as an "obese" metabolome despite having a normal weight.
On the other hand, some obese individuals had a pretty normal metabolome that was similar to those individuals with a healthy body mass index.
It is not clear to us how an obese person could have a normal metabolome. We do not know whether it is their genes or environment that are responsible for keeping this group of individuals more healthy. That will take more research to figure out.
Because we had medical information at the time that the metabolic analyses were performed and we had long-term follow up data, we could see the consequences of abnormal metabolism.
Those obese individuals who suffered the greatest deregulation of the metabolism developed diabetes, heart disease and hypertension.
These same participants were also the ones that accumulated fat tissue inside the abdomen and in the liver – the "bad" locations – as opposed to just adding it under the skin of the waist or buttocks.
Thus, physical obesity was important – but how the excess weight uniquely affected the inner workings of each individual was a more accurate measure of overall health.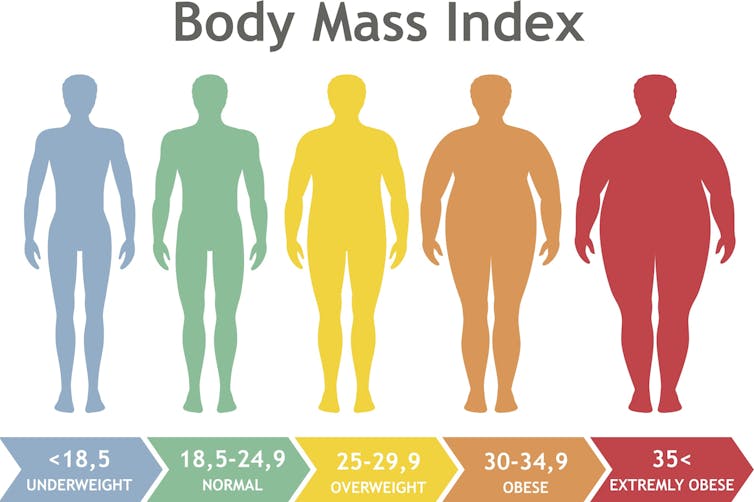 Metabolome report may say more than your BMI
It may be tempting to think of obesity as the consequence of genes – inherited from our parents. It is true, but the impact of our genes pales in comparison to the overwhelming impact of high caloric intake and sedentary lives.
There was one exception. We identified a few very obese individuals who had changes in a gene that controls appetite – the so-called melanocortin-4 receptor (MC4R). These patients had a genetic mutation that made them permanently hungry and led them to eat more than they needed. There is great hope that this particular type of obesity will be soon treated with specific drugs. As expected, this form of obesity severely disrupted the metabolism of the affected person.
We see all the time that science provides new understanding on important health problems that seems to fade once the news cycle is over. But after the hype comes the incubation of new strategies that may eventually find their place in medical practice.
Specific to research in obesity, I believe that bringing attention to the important changes in the metabolism provides a sense of urgency to the field. This work also provides a new way to measure the harmful impacts of obesity and to screen populations to identify those who could benefit from participation in clinical trials of new drugs. This includes individuals who are skinny and have an unhealthy metabolome, but are unaware of their state of health and would benefit from early intervention.

Amalio Telenti, Affiliate faculty in Pharmacy and Pharmaceutical Sciences at UCSD ; Professor of Genomics at Scripps, The Scripps Research Institute
This article is republished from The Conversation under a Creative Commons license. Read the original article.
---
Fasting?
Breakfast, blood sugar, & inflammation
Recent research has shown that Inflammation is responsible for 7 out of 10 Deaths in the United States. But it doesn't have to be the same way for you.
In fact, in a fairly short amount of time, you could start to experience better sleep…less stomach issues…more energy and stamina…less muscle and joint pain…a drop in weight…lower stress levels…and much, much more!
Learn how to Prevent—Even Reverse—Most Major Diseases by "Turning Off" Inflammation!
==> Naturally Fight & Reverse Damaging Inflammatory Effects in Your Body!
---
Best stretch before bed (1 minute)
Did you know that one of the best times to stretch is right before bed? However…
What stretches should you do? Here's a 1-minute stretch routine you can do before bed...
=> Best stretch before bed (takes 1-min)
Enjoy!
Lisa, Yoga Coach
eatlocalgrown / wisemindhealthybody
---
Stop Snoring in 3 Minutes - Starting Tonight
...easy, 3-minute exercise that completely cured his horrendous snoring! We can both finally sleep!
Today is a good day. Tonight will be even better. Why?
Because you're about to learn easy throat exercises that cure (not just treated) your stubborn snoring – in 3 minutes – starting TONIGHT!
...even if straps, sprays and even torturing CPAP masks have failed you in the past.
Most people heal their snoring in just a few minutes per day using these powerful throat exercises. And they're so easy, you can do them, regardless of your age or physical shape.
Use them anytime, anywhere... even while stuck in traffic or watching TV.
Plus the results are permanent!
To learn more and test-drive the easy snoring and sleep apnea exercises for yourself, click here...
To a good night's sleep,
Rick + Lisa
eatlocalgrown / wisemindhealthybody
---
The #1 "bodyfat-eating" hormone...
Did you know that your bodyfat can become "calorie-resistant"?
True. And it's completely unaffected by even the strictest diets... and most intense exercises.
However, there's good news- Calorie-resistant bodyfat can be now removed...
It's a little-known, calorie-burning hormone we all have... just waiting for the right spark to come alive. It's not thyroid, leptin, ghrelin, insulin, adiponectin, HGH or any other "fat loss" hormone you may know. Read more to find out precisely how to unleash its calorie-burning power:
==> How to Activate Your #1 "Bodyfat-Eating" Hormone...
To your health!
PS - Studies show that it can also reduce your risk of diabetes by 53.7%, a heart attack by 83.3% and stroke by 51.4%. Here's more of the scientific proof...
---
#1 muscle that eliminates joint and back pain, anxiety and looking fat
I bet you can't guess which muscle in your body is the #1 muscle that eliminates joint and back pain, anxiety and looking fat. This "hidden survival muscle" in your body will boost your energy levels, immune system, sexual function, strength and athletic performance when unlocked.
If this "hidden" most powerful primal muscle is healthy, we are healthy.
Is it…
a) Abs
b) Chest
c) Glutes
d) Hip Flexors
Take the quiz above and see if you got the correct answer!
---
In April, 2009, researchers stunned the medical community when they reported chronic inflammation as the root cause of several major diseases.
See, every year 610,000 people in the U.S. die of heart disease. Cancer claims another 584,000...stroke 130,000...Alzheimer's disease nearly 85,000 — and the list goes on.
Truth is, we now know... chronic inflammation is responsible for 7 out of the top 10 leading causes of death in the United States! Hundreds of studies and scientific reviews prove it.
Fortunately, newer research shows you can prevent-even reverse-most major diseases by "turning off" inflammation. And in our new book, we show you how to do just that.
If you or a loved one is suffering from a debilitating condition-and you"re not sure what the culprit is-now's the time to find out...while you can still do something about it!
Get the Free Inflammation Book
--> Grab your FREE copy of this groundbreaking soft cover book today (while supplies still last.)
---
Free Paleo / Keto Cookbook
Over the past year, my friend Dave over at PaleoHacks has been working on a super secret cookbook project with our good friend Peter Servold ­­ a Le Cordon Bleu trained Chef and owner of Pete's Paleo...
And today, this new incredible Paleo Cookbook is finally available to be shipped right to your door for FREE!
The cookbook is called Paleo Eats, and it's filled with over 80 chef ­created, insanely tasty Paleo recipes ­­ which means they are free from gluten, soy, dairy, and refined sugar.
Get your FREE copy of Paleo Eats Here. (Grab this today, because they only ordered a small batch of these cookbooks for this freebie promotion, and they will sell out FAST!)
Enjoy!
---
Sponsored Health Resources
In the years that I've been working on this website project I've come across some amazing resources by some very special people. I'd like to share them with you here.
NOTE: I update these links often so please check back to see what's new!
---
1) Everyone knows green smoothies are healthy right? Have you heard of a "red" smoothie? If not, check out this story…
--> "Red" Smoothie Helps Alabama Girl Shed 80lbs!
---
2) Forget what you've read about 10-day lemonade cleanses, 7-day detoxes with green juices and Gwyneth's gruel. All you need to do, and this is perfect for Saturday or or anytime really, is a simple 1-day cleanse.
--> Get the 1 Day Cleanse (better than 7-day detoxes!)
---
3) This "hidden survival muscle" in your body will boost your energy levels, immune system, sexual function, strength and athletic performance when unlocked.
--> #1 muscle that eliminates joint and back pain, anxiety and looking fat

---
4) I thought it was virtually impossible for a website to be able to tell me anything even a little bit insightful after only submitting my name and date of birth... I was wrong!
--> Your Birth Date + Name - Free Report
---
5) Turmeric is amazing. The problem is - It's hard to absorb!
--> The best way to get maximum effects of Turmeric
---
6) Wonder why your stomach still sticks out even though you're hammering the core exercises every day? It's a common myth that bulging belly is due to weak abdominal muscles.
--> Why Some People LOOK Fat that Aren't
---
7) Even if you're the most active of athletes, you may still suffer from tight hip flexors due to the amount of time you spend each day planted to a chair.
---
Enjoy! Let me know how these work out for you. And if you run across anything I've missed please let me know.
Rick D.
wisemindhealthybody.com